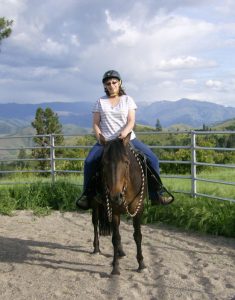 About the Artist
Hi, I'm Debbie Little, the owner and artist at My Horse My Heart Creations.
Horses are my passion! I wanted a horse from the time I knew what one was, but I didn't have an opportunity to own a horse until I was 50. I have lots of stories to share in my blog about being a new horse owner at 50 – ha!
Now I'm much older and wiser, but love my horses more than ever, too.
In my first career, I was a Certified Public Accountant, but as I drew towards retirement, I started making horsehair jewelry (another story for my blog). Now I'm blessed to have a second career that combines my passion and love of horses with my business. Who could want for more?
My husband and I now live in the mountains in Idaho with four horses, five cats, and a bunch of chickens.